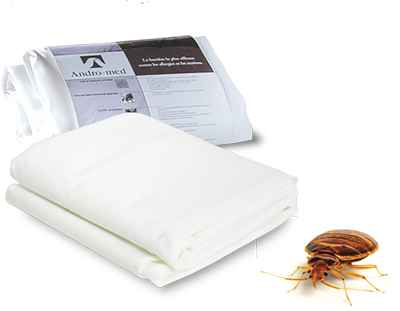 Andro-med is a new revolutionary cover for your pillows and mattress.
It creates a barrier against dust mites and allergens. This means a protection like you've never seen befor, that will preserve the confort you deserve. Andro-med's revolutionary products allow air and moisture vapors to flow through them. So contrary to plastic covers, they will not trap the moisture Inside.
The fabrics used by Andro-med have been tested at two leading colleges of medecine. Both found the same results: These fabrics are an effective barrier to dust, dust mites and associated allergens that cause allergic symptoms among sufferers of asthma, rhinitis and related respiratory problem.
Andro-med products are very durable. They do not lint or pill. With proper care, they will last as long as your pillow or your mattress. It can be laundered along with household sheets, pillowcases and other bedding items, as often as needed. Andro-med products work as a soft and comfortable filter fabric. There are no chemicals applied. They filter out contaminants, while keeping your beds and pillows drier and more comfortable. Machine washable up to a temperature of 160 °F.
EXTREME PROTECTION
• Effectively filters dust, dust mites and other allergy-causing particles
• No added weight, stiffness or heat buildup
• Machine washable (at temperatures up to 160°F)
• Soft, supple and noiseless
• Airy, fluffy and light
• Easy to maintain
• Barrier against dust mites and bed bugs
• Traps dust mites and bed bugs and prevents them from getting in or out of 
   your pillows and mattresses

A PROTECTIVE FINISH
• AEGIS Microbe shield(TM) protective finish that inhibits the growth of 
   microorganisms on the fabric
• Permanent antimicrobial screen
• Cannot be destroyed by repeated washing
• Controls odors caused by mold and mildew, soils, stains and deterioration
• Breathable protection: fabric permeable to air and water vapor
• Superior alternative to plastic bedding and pillow shams
• Softer, smoother and quieter